It ended almost as mysteriously and enigmatically as it had began; smited and embittered parties issuing overt and implied reproaches, borne of the frustration and confusion which are indicative of the man and his prodigious talent; the extent of their displeasure a mark of how profoundly his abilities could have changed their team's fortunes for the better. Yes, the days and hours which preceded the closure of the Premier League's transfer window were shaped effortlessly and unmistakably by the laconic Dimitar Berbatov.
Partially, of course, one was left thinking how it could have come to this. Four years ago, almost to the day, Manchester United and the, then, newly well-heeled Manchester City had finally had bids accepted by the ever obstinate Daniel Levy of Tottenham Hotspur.. What happened next has strayed into the realms of Manchester United club mythology, as Alex Ferguson is reputed to have sped to Manchester airport to whisk Berbatov away to Old Trafford under the cover of darkness, and away from the clutches of their noisy neighbours to secure a £30million plus deal.
Whatever the truths of the affair, both United and Berbatov seemed ideally suited. Long coveted by Ferguson, the Bulgarian was blessed with the skill and insouciant brilliance that so closely echoed Eric Cantona, the temperamental Gallic genius around whose beguiling and instinctive talents Manchester United rallied to clinch the first Premier League title following decades of under-achievement. Berbatov, it seemed, shared his technique, his vision, and the sort of untempered artistry that is the blessing of a rarefied few in the world game.
And, yet, the striker's time at Manchester United was a largely frustrating, even unaccountable, one. Beginning unremarkably at Anfield, where he seemed to be largely deployed as a reluctant target man, at whom the crosses of one Carlos Tevez- himself visibly irate at being thrust to the right of midfield- were aimed. Berbatov's first full season at United was one of only sporadic quality. Curiously, Ferguson, a man who had pursued his prize so long and with such huge funds, seemed as bemused as Berbatov himself as to where he should best be deployed.
The following season must have been one of such ambivalence and confusion for the player who, largely in the absence of Wayne Rooney- who had returned from yet another major tournament unfit and unmotivated-
finally began to dictate matches in the masterful fashion he had previously enjoyed at Tottenham Hotspur. At long last the goals had begun to flow, too, and a stunning hat-trick in United's triumph over Liverpool seemed to mark the turning point as most now believed the enigmatic forward ready to fulfil his extraordinary potential.
It was not to be. With the emergence of Mexican goal poacher Javier Hernandez, Ferguson dispensed with Berbatov, despite his imperious form, and sided with the then blank-firing England favourite, Rooney. The change was an abrupt one, and he played few starting games after Christmas, although it is a mark of his considerable achievements that he still finished the season as the joint highest scorer in the league. The final ignominy was being dropped from the match day squad for a Champions League final in which Manchester United were consummately outplayed on the Wembley pitch by an irrepressible Barcelona.
What, then, had changed for a man who had at last begun to bless the Old Trafford faithful with his lavish gifts? Why, subsequent to his rejection by his manager in London, was he condemned to linger on the fringes of the first team and steer the callow youths of Carrington through League Cup ties?
According to the Glaswegian, and confirmed by the man himself, it was believed that United should be playing "more directly" and with greater pace. Ergo, the more utilitarian qualities of Danny Wellbeck were preferred ahead of his own, the raw pace of Hernandez became the order of the day, and, above all, the crude sweat and bluster of the English media's hero, Wayne Rooney, was omnipotent.
In this realisation lies much of what so profoundly handicaps the Premier League and thus English football: the precedence given to speed, athleticism and power over skill and technique; the value of sweat and bluster over improvisation and imagination. The tedious repetition of clichés about the Bulgarian and his ilk are well known, and largely pejorative. "Lazy", "slow", "disinterested" are all terms which have been employed, usually framed by an invidious comparison with Rooney, whose often aimless ball-chasing and exertions are characterised as exemplifying the British "Bulldog Spirit".
Specious colonial epithets aside, it is little wonder that such an approach leaves Manchester United- indeed any of the larger English clubs- some distance short of achieving their aim of emulating Barcelona (now Spain's second best team), when they are determined that their success lies in such underwhelming but robust performers such as Valencia, Carrick, Fletcher, Nani and Wellbeck. And where, alas, a player of undeniably explosive finishing, in Wayne Rooney, is feted to the point of parody as "world class" by a jingoistic press, enraged by the inadequacy of its national game.
So the dream of being an icon of the theatre of dreams is over for Berbatov, he was not, or was not allowed to be, a "new Cantona". In fact, in the current climate, it seems improbable that Cantona himself could have replicated the transcendent brilliance he casually exuded in the early to mid 90s. No matter. Back under the stewardship of Martin Jol at Fulham there will be yet more moments for the discerning footballing fan in the Premier League to enjoy, but in a way it is a shame. What footballing romantic would not be moved by the prospect of the elegant Bulgarian conjuring moments of delicate genius against the backdrop of Turin or Florence, as had seemed likely? How much better would he have been regarded by a more educated audience in a league that favours a more methodical approach?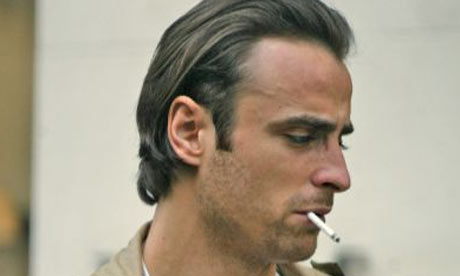 As it is, it seems likely England will enjoy another two years of Berbatov where, somewhat shaded from the scrutiny that is forever the bane of the so-called bigger clubs, there will be more back-heels, touches and goals that no other player in the league could hope to replicate. All performed as casually and impudently as a flick of the man's loose rolled cigarette.