A quite remarkable event took place in the ever challenging history of Welsh football last week. Remarkable in that it occurred at all, but even more startling that it was received with barely more than a shrug, even by those typically forthright in their views on the national side.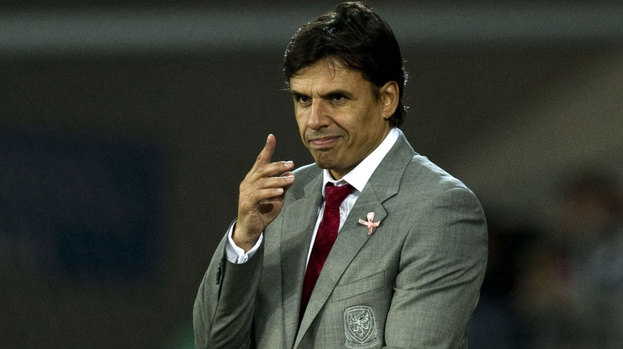 The current Wales manager, Chris "Cookie" Coleman, when asked about his outstanding contract negotiations, and comments from FAW Chief Executive Jonathan Ford that a contract would be- in part- dependent on the performances in the country's final two qualifying matches, responded thus:
'
The contract is still there, it has not been signed, ideally it would have been….
'I have seen comments that I will be judged going into these games. If that's the case, that's not right, surely it has got to be about the bigger picture, but it's not right to sign the contract now.'
'We spoke on Monday at length but more on how it had gone in the campaign, what my experiences were, stuff going forward for the next campaign. What we want to be doing. No targets were set.
'The perception now is not good. If we beat Macedonia everything will be rosy.
'People outside might say 'well Chris can sign the contract now', but maybe I won't.'
The presentation of these comments- in the all too few outlets in which reported them- suggested this was little more than a minor squabble over over the perceived position of each party. The truth, however, is that they reveal a startling insight into both the respect with which the FAW is held, and of Coleman's arrogance, that he should believe himself in a position to engage in a game of public brinkmanship with its Chief Executive.
There are those who have drawn parallels with the- often unfairly- maligned reign of John Toshack, including a certain stubbornness and belligerence under questioning. However, while Toshack could point to achievements in club football which far outstrip that of any other Welsh manager, allied with a wit that saw more than one long-time reporter on the Wales team on the ropes, Coleman possesses none of these qualities. Indeed, were it not for the conflation of a number of events, including the emotionally charged response to the tragic death of Gary Speed, it is difficult to see how the FAW could have justified his appointment at all.
Luis Saha: Sold against Coleman's wishes.
Coleman fell somewhat into management after joining Jean Tigana's coaching staff at Fulham; and, as caretaker, ensured their Premier League survival to secure the job on a permanent basis. As the, then, Premier League's youngest manager, he went on to achieve an unlikely top half finish with the West London club, before suffering the misfortune of having the core of his team sold by owner Mohamed Al-Fayed, who subsequently replaced him with Lawrie Sanchez.
This, undoubtedly, was his most profitable spell in in coaching. However, that was over six years ago, and his subsequent appointments have often been brief and, almost exclusively, unsuccessful. A short stint at Real Sociedad- which included missing a press conference due to a "late night" in the Basque Country- was followed by a lamentable performance at Coventry City, despite investing far beyond the club's means in personnel.
Coleman rallied somewhat at Larissa in Greece, but barely lasted more than six months due to problems caused by the country's economic meltdown. But that's Coleman's record in its entirety- some reasonable moments, some poor, and enough bad luck that one can't help wondering if it amounts to carelessness- and this has been largely reflected in his time as Wales manager.
Regrettably, given Wales' invariably limited resources, such abilities will never be enough to achieve the now almost mythical goal of World Cup qualification. Indeed, Coleman has shown limited ability to manage what resources are available to him. This, in parallel with all to frequent instances of eccentric, almost manic, decisions- the latest being the call-up of 16 year old Harry Wilson from Liverpool- and team selections that fail to attend to the basic deficiencies in the balance of the first team.
Liverpool's Harry Wilson
Despite a whole range of statements to the media which haven't inspired confidence, the apparent arrogance of the above quotes may reveal a fundamental truth- how weak, almost irrelevant, the FAW and the national team have become. The attendance for the side's narrow victory over Macedonia was feeble- and the malaise which has crept back into the side and the fans since Speed's death is now overwhelming.
This national indifference is almost expressly the consequence of poor decisions at the executive level. From the sale of TV rights to Sky Sports- vastly limiting the number of Welsh people able to watch Wales at home or elsewhere- to the lack of coherent strategy for the development of the game across the country, all of which condemn the full national side to failure year after year. Truly, it demands a radical assessment and overhaul, or the improved squad strength borne of the successful Brian Flynn youth sides will be wasted.
However, such a move must be one of a number of long term goals. The first and most significant act that Jonathan Ford must perform is to identify a decisive and qualified manager with a coherent vision. A man with a background that justifies the faith required to make bold decisions on and off the pitch regarding every level of the national side. Coleman was right to suggest it would be unfair to judge him on the Macedonia and Belgium matches that sat at the end of the qualifying campaign. He should be judged on his record on and off field during his time with Wales, and the evidence that they can progress to compete the world game's elite in the next four to six years. On that basis, his days as manager must surely be numbered.