Often- not unreasonably- cited as the most outstanding athlete of his generation at his peak; but Tiger Woods' fall from grace was as abrupt and dramatic as any of his 14 major championship victories.
Tiger's last major?
Once a man whose very presence on the leaderboard would see often better placed opponents wilt on the final day as he plotted his way around golf's greatest courses. The Tiger used to find chips and putts that left one wonder whether he felt pressure at all. Indeed, a few short years ago, when Woods claimed his last major title- almost literally- on one leg in a play-off against Rocco Mediate in 2008, it seemed that, after a period to recuperate from an operation to his knee, he would inevitably match the imperious Jack Nicklaus.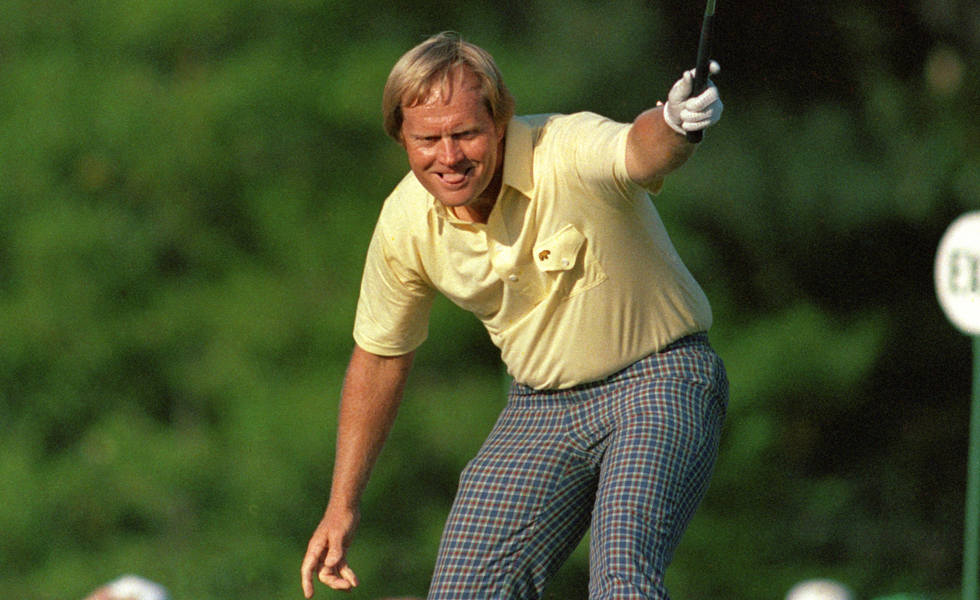 Jack Nicklaus claims the 1986 Masters
Almost no one could have anticipated the scale of Woods' demise. Disasters in his domestic life appeared to precipitate an endless spiral in his professional one. Despite having been without peer for his five years under teacher Hank Haney, the then world's number one's driving was often treated as a punchline, as he became one of the tour's more errant players with the all important big-stick. A short-game little short of genius, and course management that would have shamed a super-computer, enabled him to keep the damage these flaws did in check as he saw-out a decade of dominance.
However, the modern swing as commonly taught by the majority of golf's leading gurus, including Harmon and Haney, is an absurd confection of inane concepts, unnatural positions, and almost entirely based on false syllogisms. To a natural and powerful athlete like Tiger it proved to be physically catastrophic, and his attempts to rip through the target area took their toll on his body, particularly his left knee, which he snapped hard in a desperate attempt to square the clubface up to the ball at impact. The inevitable deterioration of said joint followed.
Upon his return he sought out the tuition of one Sean Foley. Very much the 'in' instructor of the day, teaching the likes of Hunter Mahan and Justin Rose, and a man whom Woods employed to erase the pressure his swing put on his knee. And, for all Foley's much hyped pseudo-scientific babble about 'bio-mechanics', all he was able to do was transfer the brunt of the tension once borne by his client's leg to his back, with disastrous consequences.
After being forced into surgery, he has now turned to Chris Como to save his career and his game. And, sadly, the signs are not good. Shooting an ignominious 82 at the Waste Management Phoenix Open, the former world number one looked no more comfortable off the tee than he had at any point in the last eight years and, most worryingly, the one thing on which he has always been able to rely- his metronomic short game- appeared to have completely deserted him.
He withdrew from the Farmer's Insurance open at Torrey Pines a week later, taking time to allow his back further opportunity to heal, and to come to terms with his latest swing changes. Last week, after he dropped out of the world's top 100 ranked players for the first time since the mid-90s, it was announced that his comeback would be at Augusta, the course at which he began building his own legend some 18 years ago.
The romantic in us all wishes to see an improbable relaunch of that great career, and his name once again high-up on the leaderboard on Sunday alongside fresh young stars like Jason Day, Jordan Spieth and, of course, Rory McIlroy. But, in truth, the main task for Tiger may simply be to salvage his credibility, and make the cut free from any calamitous breakdowns in game or body. It seems bizarre that by far the best golfer of his era has been plagued by a Quixotic search for a swing that provides both consistency from the tee and doesn't precipitate physical disintegration.
Never the less, it seems that the posterboy for golf for a generation is also a warning about the cost of its corporate hype and inadequate teaching methods. Yes, the financial rewards have been huge- almost unthinkable- however, the demands made on his mind and body may have been even greater. Perhaps Como will help facilitate a transformation which will allow him to threaten the great Nicklaus once more before he calls it a day, starting with the 2015 Masters. All the evidence suggests, however, that it will tell us that is all simply too little, too late.